Child Focus Staffs Red's Rookie Success League 2018

June 29, 2018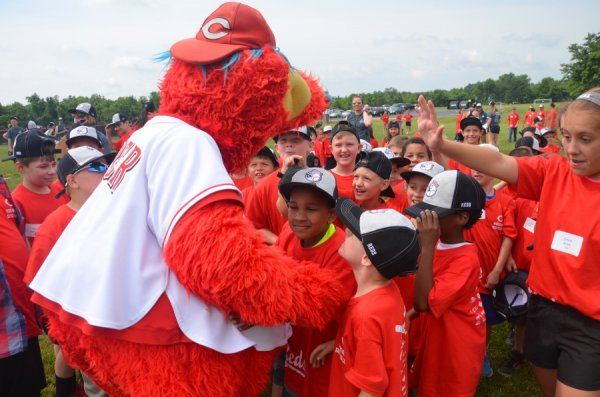 everal Child Focus Mental Health staff staffed The Reds Rookie Success League (RRSL), a free, coed, character-building summer baseball program, enters its sixteenth summer in Cincinnati and throughout Reds Country in June. The Reds Rookie Success League is an introductory baseball program for boys and girls who normally would not be able to afford this type of program. It features baseball instruction while focusing on a character-based curriculum and the "Six Stars of Success" - Cooperation, Integrity, Respect, Education, Determination and Spirit (CI REDS). Programs will run two days a week for four weeks in Dayton, for four days a week for two weeks in Butler County and Cincinnati, for five days for a week in Clermont County, and for six weeks in Louisville. Each program features visits from Reds players and coaches, or from Dayton Dragons or Louisville Bats personnel.
The original Cincinnati program celebrates its sixteenth year and fourth to take place at the P&G Cincinnati MLB Youth Academy in Roselawn. In Butler County, the Reds Rookie Success League, co-hosted by the Joe Nuxhall Character Education Fund, begins its twelfth season at Waterworks Park. In Louisville, two programs will be featured in June and July - a program at Wyandotte Park which returns for its eleventh year and a Reds Rookie Success League program taking place at Petersburg Park at Newburg Community Center. 2018 also marks the tenth year of the Reds Rookie Success League of Dayton at Action Sports Center. The Reds Rookie Success League of Clermont County will host seventh year of the program in 2018 and will be held at the Batavia Township Community Center.
Space is limited with each program capped at roughly 250 to 350 participants depending on location. Volunteers, coaches and mentors are also needed to operate each program.